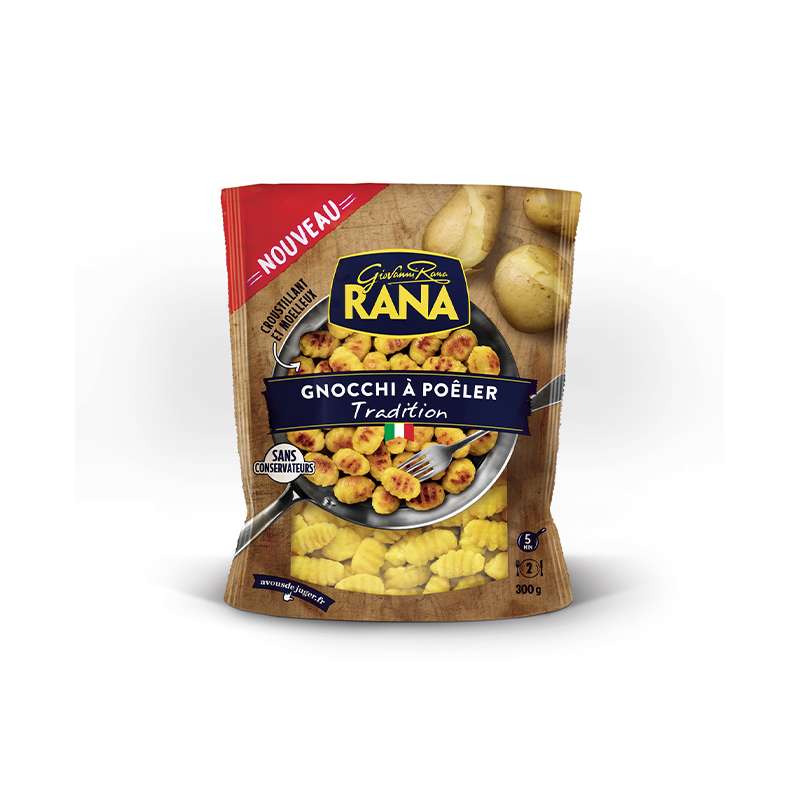 Pan-fry Traditional Gnocchi
Pan-fry Traditional Gnocchi
2,06€
2,06€
Giovanni Rana
300g
In stock
Description
Ingredients
Allergen
Nutritional Facts
Description
Traditional Pan-Fry Gnocchi (Gnocchi à Poêler) by Giovanni Rana are a new way to savor a classic of traditional Italian flavors to be cooked directly in the pan.
If they are so good it is thanks to their delicate processing method that respects and preserves the flavor, texture and aroma of good natural ingredients, such as potatoes and durum wheat.
Traditional Rana gnocchi to sauté with tomato sauce, or with pancetta and gorgonzola.
Alternatively, simply season them with melted butter, sage and Parmigiano Reggiano.
Crunchy on the outside, soft on the inside.
Tips for a perfect result.
In a non-stick pan, heat some olive oil or melt a knob of butter.
Pour in the Gnocchi and cook over medium heat, turning them regularly.
Sauté them for at least 5 minutes, until the desired browning is achieved.
Without preservatives and without palm oil.
Mashed potatoes 44% (water, potato flakes), soft wheat flour, ricotta (whey, milk, table salt), sunflower oil, grated cheese, butter, whey powder, table salt, durum wheat semolina, turmeric.
Contains wheat, milk, cheese, butter.
Energie 1141kJ/272kcal Fette 11g davon gesättigte Fettsäuren 4,5g Kohlenhydrate 35g Zucker 8,1g Eiweiß 7g Salz 1,8g